Buy your copy of "The Hunters' Harvest" Deer field dressing, butchering and home processing video DVD here for only $9.95
This 2 1/2 Hr. Video gives detailed field dressing and processing demonstrations and includes the Gutless Cleaning Method which allows the removal of the meat without removing the guts.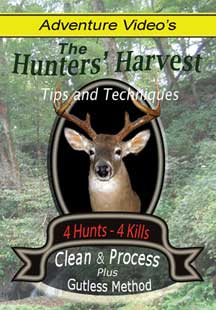 Buy it here for only $9.95
Buy Securely with Paypal.
(You will be re-directed to a secure site).
Video Length Approx.- 148 Mins.
Warning! This video contains graphic content (butchering of wild animals). Viewer discretion is advised!
Note* Dual Layer discs!Playback on some computer drives and X-box game systems may be interrupted at chapter 11.
Instructional Home Deer Hunting and Butchering DVD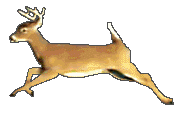 Learn how to field dress, butcher, clean, process, and prepare your Deer meat at home using traditional and Gutless cleaning methods. Reduce mess, save time and money, improve your hunting skills, and be entertained all in one convenient video!
Instructional DVD video on field dressing, processing, and jerky from venison meat.
The Hunters' Harvest is now available for $9.95. This is one of the best values on the market with nearly 2 1/2 hrs. of video covering the harvest of 4 deer, taxidermist and processor interviews, gutless method, and extra turkey hunts.
Features: The Hunters Harvest DVD takes advantage of the DVD format using three menu screens divided into the following 16 Chapters for easy search and viewing. This allows the viewer to review the chapter they need without watching or fast forwarding through the entire video.
---
Chapter List: 16 Chapters approx. 148 Mins.
Play Movie- Introduction, meet your host and watch entire video.
The First Cut- A breakdown of the deer's anatomy with instructions for the most important cut.
Field Dress #1- Learn how to field dress an eight point buck laying on the ground.
Hunt #2 Rain- Harvest of a doe during a rain storm.
Field Dress #2- Field dressing demonstration of a doe hanging on a gambrel.
Processors Visit a professional processor for an interview and see demonstrations.
DIY Process- Learn how to process your own deer and save money.
Hunt #3 Buck- Harvest of a ten point buck.
Skinning- Demonstration on typical skinning in preparation for trophy shoulder mount.
Quartering- Demonstration on quartering and storing the deer for processing.
Gutless- No gutting! Harvest and dress a Deer in the field without the removal of internal organs.
Taxidermist- Visit with local taxidermist for tips on trophy care and handling.
De-Boning- Learn how to make boneless cuts at home, package and care for the meat.
Final Processing- Demonstration on tenderizing, removing blood and making jerky.
Turkey Extra #1- An added turkey harvest from the 2005 season.
Turkey Extra #2- Our popular "Vanishing Cream" commercial trial video clip. This is hilarious!
Read Customer Comments or visit the Hunting Videos page for more information.
Click link leave feedback, comments or suggestions about The Hunters' Harvest.
RELATED LINKS AS SEEN IN "THE HUNTERS' HARVEST".
Food and Drug Administration and U.S. Department of Agriculture