Wind Sense makes it possible for you to determine wind direction quickly and easily using only water. Improve your Deer hunting success with Wind Sense.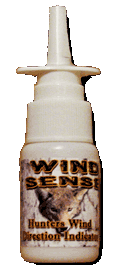 Buy Wind Sense for only $3.95
Buy Securely with Paypal.
For years of repeated usage refill with clean water only.
Wind Sense- Hunters Direction Checker Indicator
Learning to control odor and use the wind to your advantage is one of the first, and most effective lessons, you will learn as a hunter. An animals' sense of smell is very effective at detecting both hunters and game. Your scent can travel hundreds of yards carried by the slightest breeze that you may not even be able to determine. The best wind checker will check the wind direction, while being easy to use and reliable at the moment it is needed. Wind Sense uses scent free water to show you which way the wind is blowing. Wind Sense is the cheapest, most reliable, refillable, reusable, hunters wind direction indicator we have ever used.
Wind Sense- Makes Sense

Effective- instantly indicates wind direction.
Scent Free-uses clean water.
Cheap-Reuse instead of replace.
Easy Refills-Refill from tap or water bottle.
Durable-One sprayer can be refilled and used over and over.
Deer, Elk, Coyote-Improve stand and scent placements

Watch the Wind Sense Video

Click resize to view full screen.
The Wind Sense Hunters Wind Direction may be the last wind checker you will ever need to purchase. Years of repeated service can be acheived simply by refilling your Wind Sense with clean water. Adding color to the water can improve visibility as well but may shorten the life of the pump, stain clothing, skin, or hunting gear.
NOTE! Never refill the sprayer from a mud hole or stream as contaminants in dirty water can clog the atomizing sprayer.