Get your copy of "Trapping Tennessee with Jerry Bowman " video DVD for only $12.95. An exciting trapline adventure in Middle Tennessee.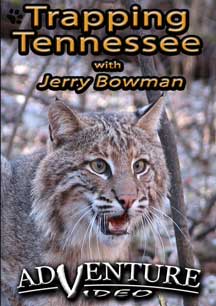 Watch a professional set traps, run the line, demonstrate various sets and techniques, and teach what it takes to be an effective and ethical trapper.
Buy the DVD for only $12.95
Buy Securely with Paypal.
Run Time Approx 60 Mins.
Warning- This video depicts the trapping and harvest of animals and may not be suitable for some viewers
Trapping in Middle Tennessee with Jerry Bowman Video DVD
This episode of Adventure Video Outdoors takes place on and around the Duck River in Middle TN. Jerry Bowman takes an eleven yr. old boy (Thomas Heath) on his trap line. Jerry passes on a wealth of knowledge to Thomas as he shows both land and water sets. Thomas learns about Otters, Beaver, Coyotes, Bobcats, and virtually every furbearing animal in the region. Now you can share the adventure and see them too.
Trapping TN Previews

Water Sets-Beaver and Otter on the Duck River
Land Sets-Bobcat, Coyote, Raccoon, Skunk, Opossum
Bobcat Release-Jerry release a young Bobcat unharmed
Fur Auction-Information from TWRA officers.

See Chapter List below for more
Trapping Tennessee with Jerry Bowman: Take advantage of the DVD format dividing the Hr. of video into the following 8 Chapters for easy search and viewing.
---
Chapter List: 9 Chapters approx. 60 Mins.
Play All- Meet the host, Thomas Heath, Jerry Bowman, Mike Coffey and "YoYo" then watch the entire video.
On The River -Jerry takes us to the Duck River to see catches of three river Otters and a Beaver
Hollow Point- Visit the Hollow Point Lodge ranch as Jerry catches Opossums, Coons, and shows how to make a dirt hole set.
Bobcat Release- Watch as Jerry releases a live Bobcat from his trap then makes and explains the Bobcat set. He then catches a Bobcat and lets Thomas handle his first cat. Next a Coon is taken out of a trap and Jerry re-makes the set.
Gray Fox- Jerry catches a Grey Fox takes it out of the trap alive and demonstrates re-making the set.
Coon Release- A Coon is release and the set re-made. Jerry explains about the bait he is using then catches a skunk and talks about them.
Coyote- A coyote is caught and provides rare footage when he barks at the approaching trappers. The Coyote is dispatch then another Bobcat and Raccoon are caught.
Bobcat 4- A fourth and final Bobcat is caught, Jerry explains a missed catch and then catches another grey Fox.
Fur Auction-Visit the Fur auction in Monteagle TN, talk with TWRA wildlife officers and learn about regulations and management efforts in Tennessee.