Buy a copy of "Trapping in South Texas with Jerry Bowman" video DVD for only $12.95 for an exciting adventure on the trapline in south Texas.
Follow along with Jerry Bowman, Wendell Reeves, Rusty Johnson, John Daniel, and Adventure Video as they set and run their trap lines for nuisance control in South Texas.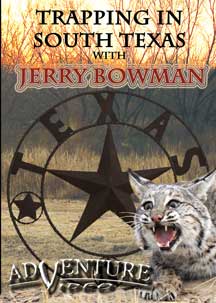 Watch professionals set a trap line, run the traps, demonstrate various sets and techniques, skin their catch, and teach what it takes to be an effective and ethical trapper.
Buy the DVD for only $12.95
Buy Securely with Paypal.
Run Time Approx 120 Mins.
Warning- This video depicts the harvest and skinning of animals and may not be suitable for some viewers
Trapping with Jerry Bowman in South Texas DVD
South Texas Trapping Previews

Snare Sets-Coyote, Bobcat, Javelina, and Coon
Foot Hold Traps-Bobcat, Coyote, Raccoon, Skunk,
Conibear Bucket Sets-Raccoon
Skinning- Coon, Fox, Skunk, Bobcat.
Trapping with Jerry Bowman in South Texas: Take advantage of the DVD format dividing two (2) Hrs. of video into the following 8 Chapters for easy search and viewing.
---
Chapter List: 8 Chapters approx.120 Mins.
Play All- Meet the host and trappers and watch entire video.
First Day- Border Patrol @ Loma De Cometo, Coon (Foot hold Trap), Grey Fox, Possum, Javelina catch and release, Coyote Snare set, Raccoon (Conibear Trap), Bobcat (Foot Hold Trap), Skinning the days catch (Fox and Raccoons) Night spotting Deer.
Second Day-Setting a snare for Coyote and Bobcat, Coon Buckets, Armadillo, Grey Fox, Setting traps and Snares on the Perlitz ranch.
Third day- Breakfast at Loma De Cometo Lodge, Pulling out Coon Traps, Axis Deer, Pecosa Ranch, Coyote Snare miss explained, Coyote with set-up instructions, more Coons, Bobcat Foot Hold trap, Opossum, Coon Snaring, Visiting the Wilmons ranch, Visiting the Perlitz ranch, Porcupine snared, Skunk,
Fourth Day- Predator hunt, Coyote snared and reset, Coon, Bobcat, Bill Zweiner on Pecosa ranch, 7 Coyotes caught in one day!
Landon Hunts- Landon Reeves harvests a Whitetail Deer, two Javelinas, and an Axis doe.
Last Day-Caison and Matt Little run the trapline and learn how to use a catch pole to remove Bobcats from the trap.
Slide Show-Photo tribute set to music for the week long event.
Click link leave feedback, comments or suggestions