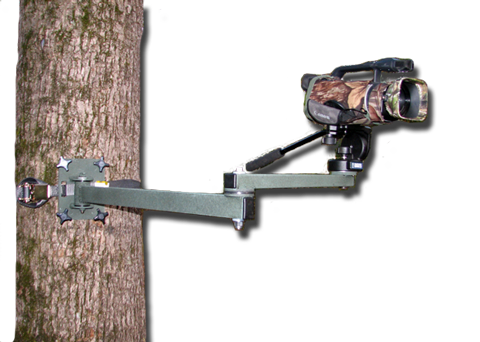 NEW!!
Tree Stand Video Camera Swing Arm Mount for Deer hunting.
This is a must have item for anyone wanting to operate a video camera while sitting in a treestand. These mounts deliver a smooth steady operation for long distance panning and zooming.
Shown with Camera and Tripod head- not included
Buy it here for only $149.95*
*price without head
Buy Securely with Paypal.
This page is will be modified with more detail about this product. Contact us with any question you may have at this time.
Video Camera Swing Arm Mount
Our heavy duty camera arms are designed for the hunter who wants to capture his own hunt. They are built to be strong, smooth, stable, and affordable while allowing for quick easy packing and set-up.
These arms have undergone years of in-field testing and modifying to get the best, most affordable, design possible. This product is proudly made entirely in the U.S.A.
Here is a list of a few of these great features.
Lightweight aircraft aluminum construction
Supports up to 9 Lb. camera
Detachable Tree Base for easy set-up on return trips
Integrated linear leveling bubble
Rigid base mount with integrated leveling screws
Silicon lubricated nylon bushings and friction plates for smooth silent operation
Stainless steel fasteners for rust free weather exposure
Ultra flat no glare wrinkle powder coat finish
Standardized head mounting with locking set-screw
Ratchet strap base mounting