Predators and Prey Christian Eastern Wild Turkey and Coyote hunting. Watch this exciting episode of Adventure Video Outdoors and buy a DVD.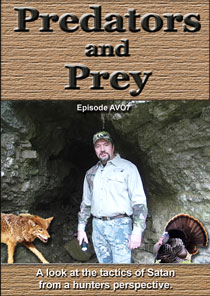 Special offer $11.95
Buy Securely with Paypal. (You will be re-directed to a secure site).
Video Length Approx.- 60 Mins.
Warning! This video contains graphic content. Viewer discretion is advised!
Learn the about tactics Satan uses against us by learning how to hunt Turkeys and Coyotes
Features: Watch this entire episode of Adventure Video Outdoors filmed entirely in Tennessee for free online!

The internet version of this video is compressed for internet delivery. Purchase a DVD copy for full quality video.
---
DVD Chapter List: 6 Chapters approx. 60 Mins.
Play All

- Adventure Video Outdoors title sequence, explanation of episode storyline from Indian cave, watch entire video.

First Turkey Hunt

- Getting into your set-up, Turkey hunt with kill, Satan's techniques explained, blind set-up and hunting preparations.

Second Turkey Hunt

- Video of Turkey Gobbling while roosting in a tree, missed shot due to poor set-up preaparation, how to be successful after a missed shot, Turkey kill.

First Coyote Hunt-

Coyote decoy and call explanations and how Satan uses then against us with Ben Hart, Coyote shot on the run with Toby Hobbs.

Second Coyote Hunt-

Coyote hunt with Jason Jones and Ben Hart as another Coyote is called in aand shot.

Closing Scene-

Return to the Indian cave for closing information about how to be prepared for the predator (Satan) and the prey.
Read Customer Comments or visit the Hunting Videos page for more information.
Visit our Coyote and Predator hunting DVD page for more free TN Coyote videos.